Georgia State Men's Tennis Makes Biggest Turnaround in College Tennis History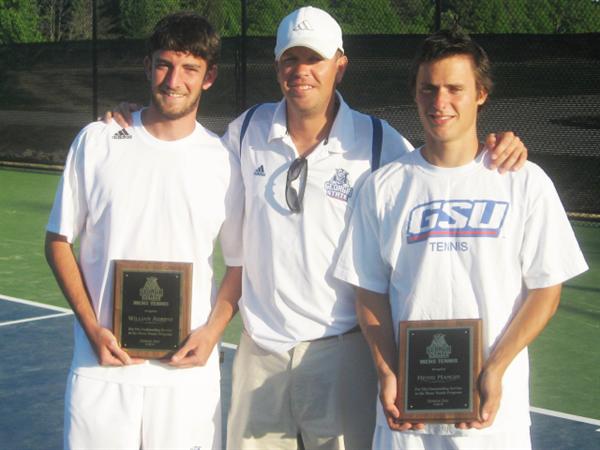 Courtesy:
Georgia State Athletics
The Georgia State men's tennis team has made the biggest turnaround in college tennis history. The Panthers, who are coached by first year Head Coach Chase Hodges, concluded the regular season on Saturday with a record of

 

14-5

 

on the season and have won 7 straight matches including a 3-0 CAA record. Georgia State finished the 2009 season with a record of 0-19 last season. The 0-19 to 14-5 transition is the greatest turnaround the sport of college tennis has ever seen. 
Hodges brought in a 4 man recruiting class in January that has proved to put the Panthers as a legitimate contender heading into the CAA Championships next week. Hodges is quick to point out that the CAA is a very difficult conference. "I truly feel that the CAA is the best mid major conference in men's tennis. VCU, UNCW, Old Dominion and William & Mary all have outstanding programs that are all very well coached. My hope is that people that know college tennis will begin to associate Georgia State with these programs. This will take time but I feel we have taken some steps in the right direction this season to position ourselves for future success in this great league."
Georgia State entered the season with the longest losing streak in college tennis with 37 straight regular season losses dating back to the 2008 campaign. In Hodges' first match at Georgia State, the streak was snapped with a 4-0 victory over North Florida. Hodges, who led Drake to a nation's best 42 straight regular season wins and 47 straight home victories at the Roger Knapp Tennis Center, took over at Georgia State in August of 2009. Coach Hodges is the only coach in the country to lead three different programs to their first ITA national rankings (Longwood in 2002, UNC Asheville in 2003, and Drake in 2006). When learning of the news, the three time Missouri Valley Conference Coach of the Year said, "This accomplishment is all about the current Georgia State men's tennis players. These guys have made a commitment and I'm very proud that I'm a part of this. This is a special achievement that they can take with themselves for the rest of their lives."
Georgia State travels to the CAA Championships on Wednesday, April 14, 2010 in Norfolk, Virginia.