ITA: In the Spotlight highlights the No. 1 ranked singles players in both men's and women's current college tennis rankings.  Ani Mijacika has made her 3rd appearance as the No. 1 women's singles players while Oleksandr Nedovyesov is reclaiming the No. 1 spot for the first time since the 2008 preseason rankings.  These two outstanding players have taken time from their busy team schedule to sit in this week's ITA Spotlight.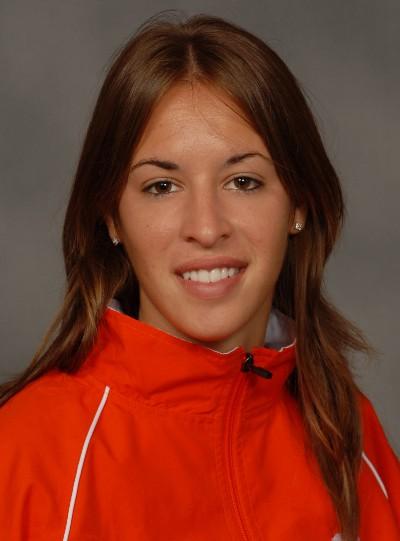 Ani Mijacika  is a junior at Clemson University.  Her hometown is Makarska, Croatia and she is currently ranked No. 1 women's singles and No. 8 in women's doubles with partner Keri Wong in the Campbell/ITA National College Rankings.  This is her 3rd consecutive time to be ranked No. 1 in the National College Tennis Rankings and this is the first in Clemson tennis history a man or woman can claim to be the best in the nation. 

What is the best thing about playing for Clemson?
I would say the best thing is the people around me, like teammates and coaches, besides Clemson being a good school academically and having great programs for athletes.

Favorite Class at Clemson
Right now is Spanish class that I'm taking this semester.

What is your most memorable tennis experience?
I would in my college career so far, my most memorable moment would definitely be winning the conference title last spring.  That was fun and the atmosphere was great.

Where is the most interesting place you have traveled?
Probably Costa Rica

Describe your game in THREE words?
Hmmm.. Maybe all-court player with lots of variety, haha, I know it's not three words but it's kinda hard to put it in 3 words...



Oleksandr Nedovyesov is a junior at the Oklahoma State University.  His hometown is Alushta, Ukraine.  He is currently ranked No. 1 in men's singles and No. 16 in men's doubles with partner Nathan Byrnes in the Campbell/ITA National College Tennis Rankings.  Nedovyesov is 11-1 this season and has won 10 straight matches.  He was also ranked No. 1 in the preseason rankings in September 2008.

What is the best thing about playing for Oklahoma State?
The best thing about playing for Oklahoma State is having a great coach like James Wadley, who helped to improve my game on the court and who always shows support in my tennis career and outside the court.  It is also nice to have Ukrainian players on the team that I can rely on no matter what happens.

Favorite Class at OSU...
I would have to say that my favorite class at OSU is economics because I am majoring in it and this is the subject I am really interested in.

What is your most memorable tennis experience?
My most memorable tennis experience was back when I was around 15-16 years old.  I won a Junior tournament in Ukraine.  Special guests at this tournament was Marat Safin and Yevegeny Kafelnikov.  I had a chance to play an exhibition doubles match against two tennis stars at that moment.  It was a memorable moment because they both used be No. 1 in the world and were very inspiring to me.  Marat Safin was one of my favorite players that I tried to look up to and I still enjoy watching him play.

Where is the most interesting place you have traveled?
Most interesting place where I have traveled is Paris.  While I was there, I had visited all the cultural landscapes and historical monuments that made a big impression on me.

Describe your game in three words.
Speed, Fight & Emotional